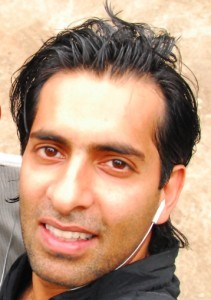 Pratap Rughani is a documentary film director and producer. His work is wide-ranging, from investigative and social stories to human interest and environmental films embracing a range of documentary film and photographic practices. His documentary film practice finds homes in a spectrum of editorial, commissioning and exhibition environments. Much of his early work is in observational broadcast documentary modes, with twenty-five films for BBC 2 and Channel 4.
More recent films explore the greater aesthetic freedoms of independent commissions for the British Council, or research-supported projects for exhibition in gallery spaces more recently at Modern Art Oxford and Gallerie Polaris. Many films explore the dynamics of inter-cultural communication, conceiving documentary as a crucible in which people of radically different perspectives, cultures and politics come into relation, for example with the Truth & Reconciliation Commission of the new South Africa.
Pratap wrote the new MA in Documentary Film for the London College of Communication  at the University of the Arts London where he is Course Director.  He is interested in examining and creating newer forms of inter-cultural documentary film cultivating the kinds of pluralized spaces through which newer understandings can evolve.
Awards
Awards include the Race In the Media (RIMA) Award in the TV Factual category, (2001) as co-director with Roger Mills of the four part series "New Model Army". "Playing Model Soldiers", film 2 of the series, which he wrote and directed, was selected for festivals at the National Museum of Film and Photography, the Blackscreen Film Festival and the Watershed Cinema. Films 1 & 2 were shortlisted for the 2001 Grierson Award.
"Gardeners In Eden" which he co-directed (as part of the BBC series "Africa's Big Game") won Best of Festival in the Missoula Environmental Film Festival, 1996. In 1992 he was runner-up in The Observer newspaper's Young Travel Writer awards for his account of a journey through the newly independent state of Kyrghyzstan.
In 1988 he won a German Embassy journalism award for his examination of Berlin's education of migrant Turks.
For teaching:
| | |
| --- | --- |
| 2013 | Higher Education Academy, UK. National Teaching Fellowship Award (NTFS) |
| 2012 | University of Arts London (UAL) teaching award for contribution to key strategic vision of UAL including writing & leading new MA in Documentary Film |
For research:
| | |
| --- | --- |
| 2010 | AHRC Network Grant, as co-investigator of bid to develop Moving Image Research Network, culminating in the launch of a new peer-reviewed academic journal; Moving Image Research Art Journal (MIRAJ, launched April 2012) |
| 2010 | The University of the Arts Research Centre for Transnational Art, Identity and Nation (TrAIN), Associate Award for film development. |
| 2009 | Pedagogic Research Funding for developing new MA curriculum, UAL |
| 2007 | Small Grant, funding for The Botanist film installation, UAL |
Email: lotusfilmsuk@gmail.com
University of the Arts London, London College of Communications, Research Staff profile