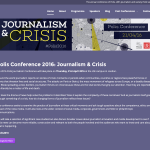 "The 2016 Polis Journalism Conference will take place on Thursday, 21st April 2016 at the LSE campus in London.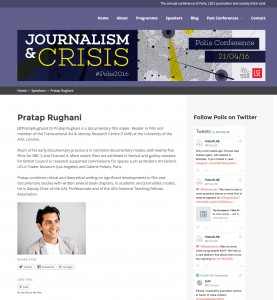 Around the world journalism reports on stories of crisis: moments or periods when communities, countries or regions face powerful forces or events that threaten lives and social structures. The attacks on Paris or Beirut, the mass movement of refugees across Europe, or a deadly disease like Ebola spreading across borders. Journalism thrives on crisis because these are the vital stories that grip our attention. How they are reported can literally be a matter of life and death.
This conference seeks to examine the practice of journalism at these critical moments and ask tough questions about the competence, ethics and impact of the news media. It will also look at the wider context of social media, corporate, government and NGO or philanthropic communications".

Speakers
Speakers confirmed so far include Jon Snow (keynote) and speakers from Buzzfeed, The Guardian, BBC and more.
Dr Pratap Rughani will be a contributing speaker.