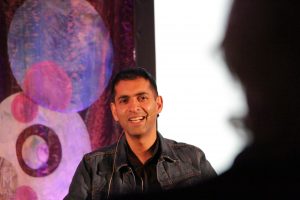 Pratāp Rughani is an award-winning documentary filmmaker, photographer, academic and writer. He has made over 35 films for BBC TV, Channel 4, The British Council and fine art spaces including Modern Art Oxford and is currently working on a new installation for STAMPS Gallery of Art, Ann Arbor, Michigan. He has written for The Independent, The Observer, The Times and was contributing editor for The India Magazine.
His approach to documentary embraces observational, narrative, investigative and artists' documentary film and photographic practices.
Many films explore the dynamics of intercultural dialogue, conceiving documentary as a crucible in which people of radically different perspectives, cultures and politics come into relation, for example with the Truth & Reconciliation Commission of the new South Africa.
How 'restorative' approaches to documentary can model dialogue between and within communities polarised by the politics of difference is an abiding theme increasingly urgent today. His films and writing cultivate pluralised spaces through which newer understandings can evolve. Academic book chapters and peer-reviewed articles are available at Academia.eu and ResearchGate 
His PhD supervision and examination experience is here
Pratap wrote the MA in Documentary Film for the London College of Communication – the first postgraduate film-making MA at the London College of Communication,  University of the Arts London where he is Professor in Documentary Practices, head of Research and chair of the University's Professoriate. He supports emerging and established documentary practitioners and was awarded the UK's National Teaching Fellowship and was Deputy Chair of the UK's National Teaching Fellows' organisation.
Listen to short interviews with Pratap on
1. Influences: Literature Form and Content
2. Influences: Film
3. Research: Film V Academic
4. Research: Kubrick Archives
Email: lotusfilmsuk@gmail.com
University of the Arts London, London College of Communications, Research Staff profile
Institute of International Visual Arts profile