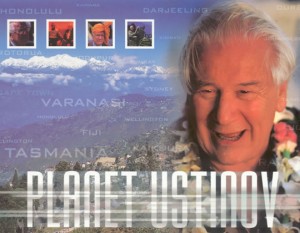 "To who it may concern,
I must be mad – at my age – to embark on a journey like this. From Suva to Sydney; from the Kiribati islands to Cape Town (with a few Himalayan foothills in between). Totally mad. A century ago, Mark Twain had done the same – Following the Equator – and now I'm to follow in his faded footsteps. As a happy mongrel – with a British passport, and no British blood – I'm curious to know what makes other people belong; and to see how Twain's world has changed.
They've told me it will be fun, and I believed them.
I must be mad."
Pratap was Associate Producer of films 2 and 4.
If television is 'dumbing down' then no one has told Sir Peter. He remains substantial proof that it isn't…The film was an antidote to the 'have celeb will travel' school of programme-making. Flying in the face of the seemingly widespread belief that travel programmes must be glamour-led, C4's new four-part series replaced glitz and gloss with girth and gravitas…" James Rampton in The Independent on Sunday 29.11.98.
"This entertaining and illuminating four-parter is definitely a series to follow" The Daily Mail 23.11.98
"The politics is lightly worn, punctuated by the Ustinov repertoire of accents and funny accents, from a taxi horn to Scottish pipes" The Times